PE prepainted aluminum coil is actually a part of color coated aluminum coil, the concept of which has been explained in details in Color Coated Aluminum Coil as the Most Popular Aluminum Type (click the title for details). PE material, after being baked and painted onto the surface of target coil at a certain temperature, forming eventually a strong protective layer resisting UV rays.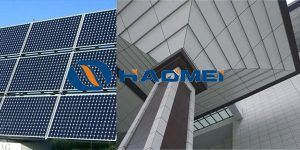 PE prepainted aluminum coil is often used in decoration area for its relative advantages. First, it offers rich colors for aluminum products, for even one series of products of the same aluminum alloy type can be coated with different colors. In this way customers have a larger range of choices. Second, it has satisfying degree of gloss and smoothness, which offers not only excellent beauty sense but also touching sense. Third, different colors and rich decorative designs increase sense of depth of the aluminum coil. Fourth, the PE protective layer enables relative products to withstand long term exposure to UV rays, wind, rain and frost. The layer also protects products from temperature changes and corrosive germs.
With a wide range of color scope PE prepainted aluminum coil can add color to either domestic or public buildings like shopping malls and large convention centers. Its perfect mechanical property makes it ideal raw material for all kinds of buildings and constructions. PE prepainted aluminum coil provides architects, building and decoration designers, and house owners with possibility of realizing their personal designs for exterior walls and interior decorations. No matter it's multi-fucntion large scale building or new-style building of unique creativity, they are able to dress it beautifully with PE prepainted aluminum coil. In addition, PE prepainted aluminum coil can also be used as decoration parts in electrical products, lighting, furniture, solar power reflecting board and even air-conditioner.
Reprinted from http://www.colorcoatedaluminium.com/pe-prepainted-aluminum-coil-used-in-decoration.html